Awards Banquet 2008
January 10, 2009
Photos courtesy - Gene Stankiewicz - KA9BOD
---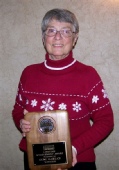 Life Time Achievement Award
Gene Harlan,WB9MMM, SK
This year, maybe for the first time, the Ham of the Year Committee has found it appropriate to present a Life Time Achievement Award; ……. to Gene Harlan, WB9MMM, SK. The award is for all the time and effort Gene has devoted to RARA and our hobby of Amateur Radio for more than 30 years. 
Gene had served RARA in almost all capacities from president to director and participated in most club activities. In addition to his amateur radio activities he was editor of the Amateur Television Quarterly Magazine, President and founder of Harlan Technologies as well as being very active in the Rockford area as a musician and volunteer at public events all while still holding down a job as Engineering Manager for a local company.
He was a quiet unassuming man who will be missed by more people than can be imagined. It was eye opening to see all of the people he had touched and the testimony they gave Gene at his memorial service.
There is an old axiom that "…behind every successful man there is a strong woman". That woman is Shari, N9SH. Gene and Shari were a team that worked together over the years to keep RARA together on multiple occasions. 
Shari, it is with great honor that RARA is presenting this plaque to you in memory of Gene but knowing that you were a partner in Gene's success. I know that you will keep this plaque in your home as a tribute in Gene's memory.
---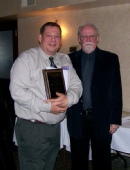 Ham of the Year Award
Chuck Ingle, AB9KA
You will find this RARA member at almost all events and meetings helping in any way he can as well as assisting other hams in many ways. He worked multiple shifts at On the Waterfront, arranged air time on WNTA Radio for proclamation of amateur radio week and served as a club director. He has put in a lot of time sharing his knowledge with other hams in the Rockford area as part of the training team. He also provided an excellent hands on demonstration of APRS at the JOTA event. It gives me great pleasure to award Chuck, AB9KA Ham of the Year for 2008.
---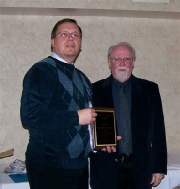 Ham of the Year Award
Rich Ludwig, K9PK
This Ham has been quietly working in the background helping at several events, multiple shifts at On the Waterfront, active in the ATV group, building QRP transceivers, fox hunting, developed direction finding equipment and as an officer of RARA as well as the RARA 146.61 repeater trustee. He was most helpful at the JOTA event by preparing a demonstration that the scouts all gravitated to. The saying goes: "It only takes an hour a week". This ham has put in more time than that resulting in providing more accurate reports for the club. This well deserving ham is Rich, K9PK as Ham of the Year 2008.
---
---